Maonocaster C2 Neo and Maono PD200X Best Price
In this article I will review one of the most popular podcaster kits of the moment, the Maonocaster C2 Neo and Maono PD200X bundle.
With the C2 Neo providing a feature-packed mixing interface and the PD200X delivering broadcast-ready USB and XLR connectivity, this combo offers everything needed for compact, high-quality streaming and recording.
In this detailed review, I'll evaluate how these two affordable products work together as the ultimate personal streaming studio.
MAONO PD200X Dynamic Microphone with BA91 Boom Arm and AMC2 NEO Bundle for Podcast, Studio, Streaming, Recording, Vocal
as of December 6, 2023 11:02 pm
From testing the C2 Neo's mixing capabilities to seeing how the PD200X's warm sound complements the interface, I found this bundle enables studio-quality results anywhere.
If you're looking for an all-in-one streaming solution to start creating content full-time, the powerful performance and intuitive workflow of the Maonocaster C2 Neo and Maono PD200X justify the investment.
Maonocaster C2 Neo Review
The Maonocaster C2 Neo stands out as an ultra-portable digital mixer and audio interface optimized for streamers and content creators.
It packs professional mixing capabilities like Bluetooth connectivity, digital effects, and USB audio into a compact footprint.
Intrigued by its features and mobility, I decided to make the C2 Neo the centerpiece of my streaming production setup.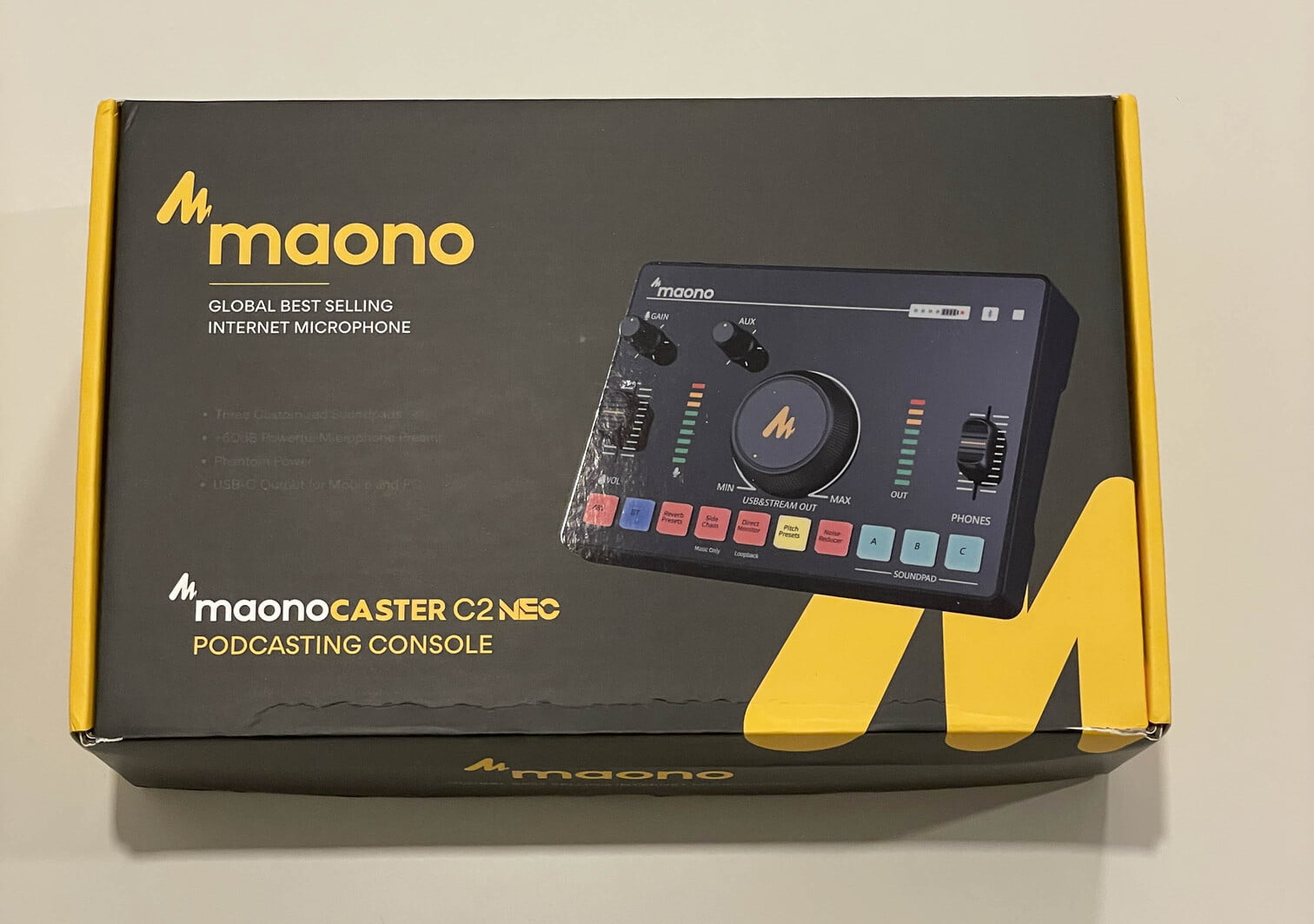 After putting it through one weeks of testing for podcast recording, music production, and live streaming, I'm blown away by how this sub-$60 interface belies its size with powerful performance.
The Maonocaster C2 Neo comes equipped with an impressive range of features for mobile streaming and recording. Key capabilities include:
2 XLR/TRS combo jack inputs to connect microphones, instruments
Adjustable +48V phantom power for condenser mics
Dedicated Bluetooth input for wireless audio integration
3 programmable sound effect pads for clips and music
Built-in voice FX like reverb, pitch shifting
Independent headphone and main mix controls
USB-C output for plug-and-play computer connection
Having these pro-level mixing traits in a battery-powered portable unit makes the C2 Neo hugely versatile for content creators. It provides expansive functionality in a footprint smaller than a smartphone.
Design and Connectivity
The C2 Neo's compact all-metal construction feels sturdy and road-ready. It takes up barely any space on my desk, but offers well-spaced, intuitive controls.
The front side provides two combo XLR/TRS jacks and gain knobs for mics/instruments. Between them sits the main volume adjustment knob. Below are buttons to engage the built-in sound effects.
The back houses the USB-C port for computer connection along with 1/4" and 1/8" headphone jacks. I also appreciate the aux input and stream output to integrate external devices.
With dimensions under 6 x 4 inches and weighing just over 1 lb, the C2 Neo is perfect for dropping into a backpack and taking on the go. The durable build quality and portability make it my ideal streaming companion.
Sound Quality
Despite its portable form, the C2 Neo provides extremely clean, full-bodied sound, thanks to the crisp preamps and quality components.
Testing with both dynamic and condenser mics, the C2 Neo adds presence and polish to any source. Engaging phantom power provides plenty of gain for condensers without adding noise.
The 20Hz to 20kHz frequency response captures vocals, instruments and other sources in complete detail. The C2 Neo also adds pleasing ambience with its built-in reverb effects.
Overall, the C2 Neo delivers impressive audio quality that rivals much pricier interfaces. It's superb for any streaming or recording application where pristine sound is demanded.
Performance
In real-world usage for streaming and recording, the C2 Neo delivers reliable results and intuitive operation. Setup only takes a moment before I'm capturing professional sound.
The preamps provide plenty of clean gain for any microphone or instrument. Bluetooth connectivity makes it effortless to grab audio from my smartphone to use as background music.
Connecting via USB-C integrates instantly with my laptop. In streaming software like OBS, the C2 Neo automatically configures as a high-fidelity input ready to deliver flawless audio.
The built-in effects pads and voice FX are a blast to use for interactive streams. With just button presses I can overlay sounds and alter my voice in real-time without touching my computer.
Battery life is equally impressive, offering up to 8 hours of portable runtime per charge.
For compact and versatile mixing on the move, the C2 Neo is perfect for my needs.
Pros
Premium sound quality in a compact footprint
Intuitive controls and reliable USB connectivity
Long battery life for extended portable use
Preamplifier with adjustable gain up to 60 dB
Great value considering features and performance
48V Phantom Power compatibility
Cons
Plastic construction
Carrying case not included to protect on the go
Conclusion
With its versatile connectivity, built-in effects, and reliable performance the Maonocaster C2 Neo provides tremendous value. For personal streamers and content creators, it's an ideal battery-powered studio solution.
The C2 Neo enables studio-quality sound in a highly portable form factor. Factor in the affordable price, and it's easy to recommend as the centerpiece for any mobile streaming setup.
Maonocaster C2 Neo Technical Specifications
| | |
| --- | --- |
| Data Transmission | USB-C |
| Frequency Response | 20Hz-20kHz |
| THD | THD<0.05% 1kHz |
| Headset Output Power | 20mW, 32Ω (1kHz, THD+N=1%) |
| Sample Rate | 48kHz /16bit |
| Wireless Connection | Bluetooth 4.2 |
| Battery Type | Li-Polymer |
| Battery Capacity | 2000mAh |
| Charge Parameter | 5V/1A |
| Charge Time | Appr. 3h |
| Battery Life | Appr. 8h (Highest keypads brightness) |
| Dimension | L24.5*W15.7*H5.5CM(button included) |
Maono PD200X Review
The Maono PD200X is a versatile 2-in-1 dynamic microphone that can be used for both USB and XLR connections.
The PD200X caught my eye with its flexible connectivity options, solid build quality, and range of useful features aimed at content creators.
After extensive testing, I found the PD200X to be an excellent value for the price point. It captured my voice with warmth and clarity, handled high sound pressure levels without distortion, and gave me the ability to dial in my sound with the onboard controls.
Features
The Maono PD200X has an impressive lineup of features for a USB/XLR microphone in this price range. Key features include:
2-in-1 connectivity with both USB and XLR outputs. This allows you to connect directly to a computer for streaming/podcasting using USB, or to an audio interface/mixer using the balanced XLR output.
Large 25mm dynamic capsule capable of capturing subtle nuances in sound. The cardioid polar pattern focuses on sound directly in front of the mic.
Built-in headphone jack with volume control lets you directly monitor your mic signal in real-time. Very useful for dialing in sound.
Smart gain control knob on the front adjusts input sensitivity. Having on-mic gain control avoids having to adjust levels in software.
Multicolor RGB lighting with 9 different modes adds flair to your streaming setup. The lighting can also be fully disabled.
Solid all-metal construction with a heavy weighted base for stability and durability. An included shock mount isolates the capsule from vibrations.
Overall, the PD200X comes generously equipped considering its affordable price point. The focus on content creator-friendly features makes it well-suited for its intended use cases.
Design and Connectivity
In terms of design, the PD200X looks suits the needs of streamers/podcasters with a cylindrical all-black metal construction. The microphone itself is large, measuring nearly 7 inches tall and 2.5 inches wide.
However, it doesn't look out of place on a desk thanks to the clean aesthetics.
The base has a nice heft to it and covers an area of about 4.5 x 4.5 inches. This stabilizes the mic effectively and prevents toppling over.
A strong metal gauge is used throughout the base, neck, and capsule for durability.
Connectivity options include both USB and XLR.
The USB port and the XLR port is conveniently located on the rear of the mic. Having both available allows lots of flexibility.
The included 6 foot USB cable and 8 foot XLR cable provide plenty of length to route the cables cleanly.
The smart gain control knob also offers a volume control for the headphones. I love having gain control directly on the mic rather than having to adjust levels in software.
The multicolor RGB lighting ring around the base lends a touch of style.
It can be disabled for a more subtle look or enabled to suit your mood. Overall the PD200X has a functional design focused on user control and flexibility.
The solid metal build quality ensures it will hold up to years of use.
Sound Quality
Given that the PD200X is a sub $80 microphone, I was skeptical whether it could provide professionally acceptable sound quality.
However, after extensive testing for vocals, acoustic instruments, and louder electric instruments, I was very impressed with the warm, detailed sound the PD200X captured.
The 25mm dynamic capsule and cardioid polar pattern succeed in isolating the source audio and minimizing background noise.
On vocal tests, the PD200X conveyed the character and nuance of my voice with excellent presence.
Acoustic guitars came through with detailed resonance and strumming articulate.
Even when recording electric guitars with heavy overdrive at high volumes, the PD200X handled the sound pressure without distortion or muddiness.
I could easily hear different chord voicings and playing dynamics come through clearly.
The frequency response rated at 40Hz to 16kHz is quite wide for a budget dynamic microphone.
Low frequencies had sufficient warmth without being boomy. High frequencies came through with clarity without harshness.
In all the sound tests, the PD200X conveyed a balanced tonal character. The tighter cardioid pattern helped minimize room ambience compared to a standard dynamic mic, resulting in a more intimate sound.
Using the onboard headphone jack, I could dial in the perfect level using the gain knob.
Having real-time monitoring is so useful compared to having to playback test recordings. Overall the PD200X captured impressively clean and detailed sound across a variety of audio sources. The sonic performance punches well above its weight class.
Performance
To evaluate overall performance, I tested the PD200X in real-world streaming and podcast scenarios. The USB and XLR connectivity gave me the flexibility to test different signal chains.
For streaming using USB, I simply plugged the mic into my laptop, configured my streaming software, and I was up and running.
The sound coming through on broadcasts was crystal clear with no latency or artifacts. The onboard gain knob gave me easy level control.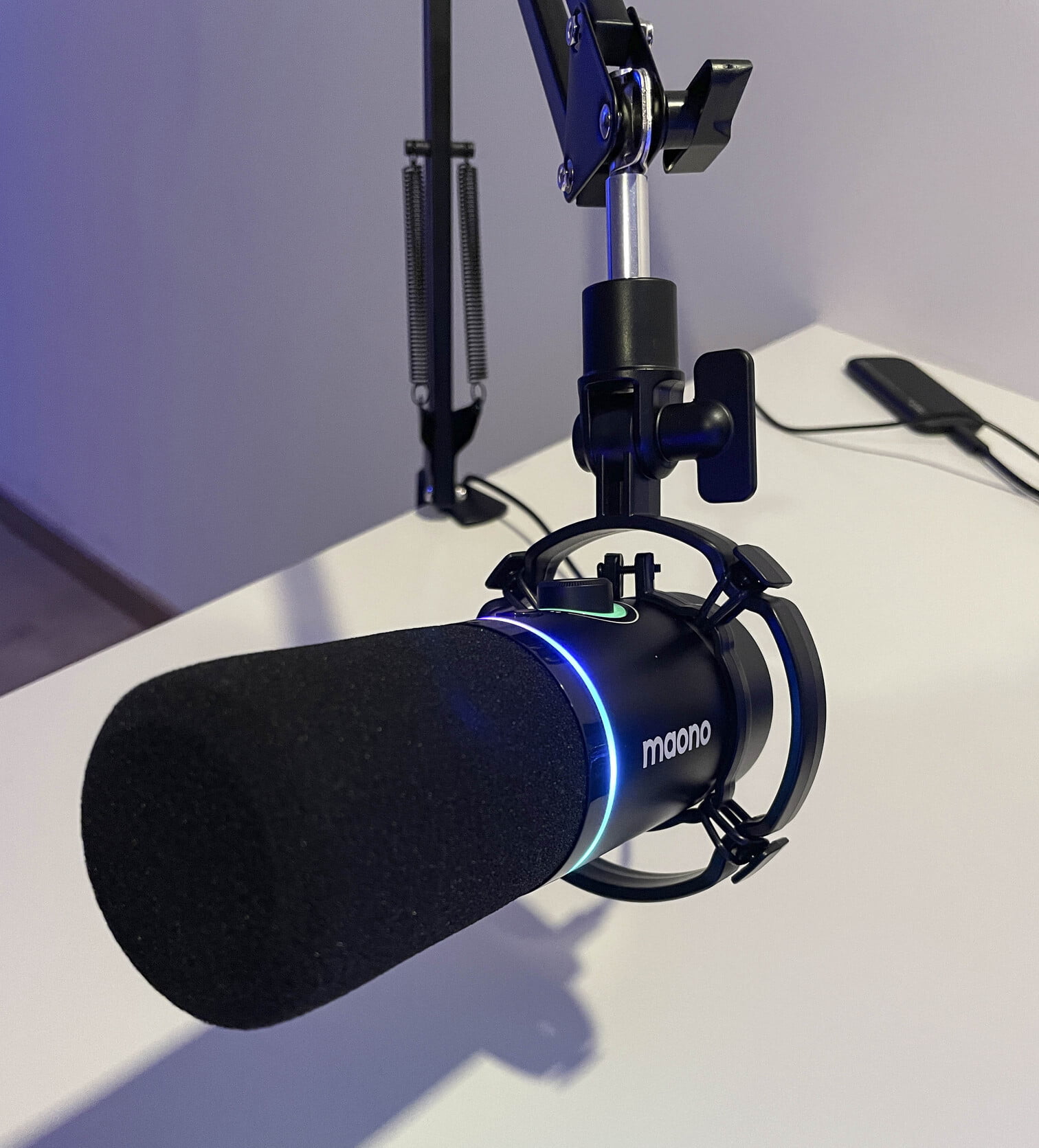 Switching over to the XLR output and routing through a compact mixer, I could leverage the mixer EQs and compression to further sculpt the sound.
This allowed me to optimize the sound for different recording scenarios. The XLR chain provided pristine 24-bit sound quality.
The PD200X also impressed me with its construction quality and noise isolation.
Streaming in a treated room, the cardioid pattern rejected noise from my computer fans and other ambient sounds. The shockmount prevented any desk bumps or vibrations from compromising the audio.
During extended streaming and podcast sessions lasting 1-2 hours, the mic maintained consistent performance. Even during loud or animated talking, the PD200X never overloaded thanks to its 134dB max SPL spec.
Overall the robust performance across diverse scenarios shows the versatility of the PD200X.
For Whom this Microphone is Intended for
The Maono PD200X hits a sweet spot of affordability, flexible connectivity, and appealing features for:
Streamers – The USB/XLR options are perfect for streaming from a computer or dedicated streaming rig. Great sound keeps audiences engaged.
Podcasters – Dialing in an optimal vocal sound is easy with the real-time monitoring. The warm sound complements most voices nicely.
Voiceover artists – The tight cardioid pattern rejects ambient noise, while the gain knob lets you optimize levels in real-time as you record narration tracks.
Home studio musicians – The robust metal construction and high SPL handling allow close-micing everything from vocals to drums to guitar amps.
The combination of broadcast-ready sound, intuitive controls, and flexible connectivity make the PD200X a versatile centerpiece for podcast, streaming, voiceovers, and home studio applications. It brings premium features to the masses at a bargain price point.
Pros
Warm, detailed sound competing with pricier mics
Flexible USB/XLR connectivity
Onboard gain control streamlines use
Aesthetically very attractive
Integrated spider-type anti-shock bracket
Rugged metal build quality
Compatibility with Maono Link software
Cons
Volume and gain control may not be comfortable for some people
Conclusion
After extensive testing, I can confidently recommend the Maono PD200X to anyone needing an affordable all-purpose dynamic USB/XLR microphone.
It provides impressive sound quality for the price, builds like a tank, and gives you options to connect directly to computers and interfaced rigs alike.
Factor in the onboard gain and volume controls, real-time monitoring, and stylish RGB lighting, and you have a microphone that can keep up with full-time content creators without breaking the bank.
Minor downsides like its basic onboard controls barely detract from its overall value as a versatile 2-in-1 broadcasting microphone, However, with the use of the Maono Link application this is easily solved.
Considering its quality and features, the PD200X should retail for considerably more than its sub $80 asking price.
Maono deserves credit for making broadcast-grade USB/XLR connectivity and sound readily accessible for home studios.
If you are on the hunt for one microphone that can handle streaming, podcasts, vocals, instruments, and everything in between, I am happy to recommend the Maono PD200X.
It has become an indispensable tool for my content creation needs, and I am confident it will excel for yours as well.
Maono PD200X Neo Technical Specifications
| | |
| --- | --- |
| Element Type | Dynamic Microphone |
| Polar Pattern | Cardioid |
| Connectivity | XLR & USB-C |
| Bit Depth/Sample Rate: | 24-bit/48kHz |
| Frequency Response | 40Hz-16kHz |
| Sensitivity | XLR:-52dBV USB:-10.5dBFS/Pa(Max) |
| Max.SPL | >130dB SPL |
MAONO PD200X Dynamic Microphone with BA91 Boom Arm and AMC2 NEO Bundle for Podcast, Studio, Streaming, Recording, Vocal
as of December 6, 2023 11:02 pm
Review
Maonocaster C2 Neo and Maono PD200X
The Maonocaster C2 Neo and Maono PD200X microphone form an ultra-portable and affordable streaming audio production bundle for podcasters, musicians, and other content creators. The C2 Neo provides a versatile digital mixing interface in a compact footprint. It allows connecting mics, instruments, and Bluetooth devices while providing effects like reverb for professional sound. With its built-in battery, USB connectivity, and traveling size, the C2 Neo is perfect for streaming on the go. It pairs with the Maono PD200X, an equally portable USB/XLR microphone with warm, detailed sound. The PD200X captures vocals, acoustics, and more with clarity. Its onboard controls like gain knob and headphone jack make getting rich sound simple. Together, the C2 Neo and PD200X provide expansive production capabilities anywhere, from home studios to remote recording. For affordable end-to-end streaming and podcast workflows, this bundle empowers premium sound.
PROS
Excellent sound quality
Versatile connectivity options
Portable and compact bundle
Built-in effects on C2 Neo
Intuitive controls
Excellent construction on the PD200X microphone
Possibility to use USB-C as well as XLR
CONS
Plastic construction of the Maonocaster C2 Neo
Review Breakdown
Sound quality

Versatility

Value for money

Construction

Design

Connectivity
Maonocaster C2 Neo and Maono PD200X Best Price
We collect information from many stores for best price available
Click below to check the best price 👇
$139.99