It is true that all rookies beatmakers dream with make a profit from their beats in different ways but mostly in cash.
But that has a solution, thanks to the musical advances that have been evolving on the internet, there are already many different ways to sell your beats online.
Ways to sell your beats online
To carry out the idea of selling your beats online, you must first be clear about how you are going to do it and through where.
There are many ways to sell your beats online, all with a common goal of generating money for your pocket.
It is true that it will not be an easy job to start getting quick results, you must be willing to dedicate time and dedication without expecting anything in return for a few months or even years to get a single sale.
Create your own website
If you want to start your own business or start a new project with your beats, this is the best way to get started on the internet.
This way of selling your beats through your own website involves a lot of dedication to make yourself known.
Basically consists of creating a personal brand, requires a good structure for the website, create a logo, have a portfolio of products to offer to the public, and so on.
It is also advisable to have a person in charge of the marketing part of the web to see your first results in the field.
You will have the possibility to change and adjust your license prices or to make different types of licenses with their characteristics and make a more varied business to offer to the public that visits your site.
Create a Youtube Channel
Create a Youtube channel is a good way to show your beats to people and grow as a beatmaker, there you can upload all your creations, have a variety of types of beats, make tutorials to create beats among many other things.
If you are a beatmaker, YouTube is the best platform to promote your creations, and send direct traffic to the platforms where you sell your beats.
In this way, you will promote your beats totally free and you will get sells much faster.
It requires a lot of perseverance and dedication to get to grow on Youtube but if your content is different and can get the attention, you will go far.
Upload your beats on selling platforms
This way of selling your beats is quite casual and good for many beatmakers, since beat platforms such as BeatStars, Traktrain or Airbit usually have abundant visits and a lot of movement, that's where there is the opportunity to upload your beats for sale for free.
They let you apply your conditions for the sale of licenses, complying with their respective rules of commissions per sale or contract by the platform you want to use.
Once you place your license prices in the process of uploading your project, you can delete it or redo it without any problems.
It is a vast marketplace of beats full of producers and artists looking for their ideal beats for their songs.
There will be many people in the market this will increase the chances of showing your work to many people who have similarity in search with the type of beats but you will also have to face competition from other beats.
Surely Beatstars is the most popular platform to monetize your beats on the internet.
Beatstars is a platform that you can join for free and upload your beats to sell them within a large community full of producers, artists, beatmakers, lyricists, etc.
People who may be interested in your work and make offers to buy your beats.
People will buy beats in the easiest and safest way through Beatstars, the buyer will hear the beat, and once he/she is sure to buy it presses the buy button, and will immediately receive the media file successfully.
Beatstars now has 2 ways for you to monetize your beats, the first one is through the sales of your beats and the second one is through the transmission of your beats on the platform.
The more viral and plays the beats get, Beastars will pay you a certain amount of money.
This is the ideal website for producers interested in selling their instrumentals to singers or artists who give life to their beats with vocals and lyrics adjusted to the type of beats.
It is a platform that also has a free way to start publishing your beats, consisting of 15 tracks, with 100% of the profits through the sale by mp3, 75% if the sale is by wav.
And there are the premium modes that are paid, which are between $9 per month or $99 per year.
The public that is mostly located on this platform are related to the genres of trap, hip hop and rap, so if your beats have any similarity with these genres, Traktrain would be the ideal place for the sales of your beats.
SoundClick is the ideal site if you are looking for trends and trends in types of beats.
The old website, which has been in the music area for years, is still showing potential and proof that the market for singles and albums is still alive and kicking.
On this platform you will find more than all audiences interested in the genres of hip hop / rap / jazz and that style.
It has a free entry and subscription to the platform that includes an unlimited amount of files to sell, will keep 15% of each single and 30% of purchases for exclusive licenses published.
It is a very good platform if your type of beats is related to what is most sounding at the time of publishing.
Types of licenses
Exclusive
The exclusive licenses, there are licenses that are temporary (1 year, 2 years, 3 years…) and those that are perpetual for the buyer.
The price of these licenses is something that gives value to the beats both for the price and for the use of the buyers, they will perhaps look for beats that are of exclusive perpetual license, these are the most expensive and can be worth from $500 to $2500.
Non-exclusive
These are those that do not grant you any kind of musical permissions when it comes to using it on any music platform.
Custom
Custom licenses can vary a lot, usually vary in their estimated expiration time to the validity of the license, it can be free of all use or with perpetual permission entirely for the buyer.
How to promote your beats to the public?
Your promotion for your beats is something very important that you should not overlook, how can you sell if you don't show it?
That's why you must keep in mind that apart from creating and uploading the beats to the internet, you must also promote them.
The ideal is to have someone who is fully in charge of this area, because it is very broad and a specialist in the subject will know what to do in this regard to have the best results and reach as many people as possible to visit your beats.
Social networks such as Instagram, Facebook, Twitter and Youtube are fundamental elements for this promotional work, you can create campaigns, ads and promotions that seek to draw the attention of people to see your beats.
On Youtube it is key to upload videos with your variety of tracks to reach more people and grow as a brand.
In social networks you must show the best image of your work and your brand or you as a producer, and relate to people within your country.
All those little things will make a positive change either in the growth of visits to your beats or also more sales for your website.
How much do you make selling beats online?
This is perhaps the million dollar question in the world of beatmakers and producers, it is true that there are people who through online platforms for selling beats, have had earnings of more than $30,000 per year.
Normally the prices of the beats vary depending on the type of file and its exclusive licenses.
The beats are usually sold in different ways, you can publish mp3 that are of low demand and are worth between $30 and $50.
There are also those of wav file that are the ones that good artists seek for their production and these are worth from $70 upwards, their price difference is due to the quality of the audios.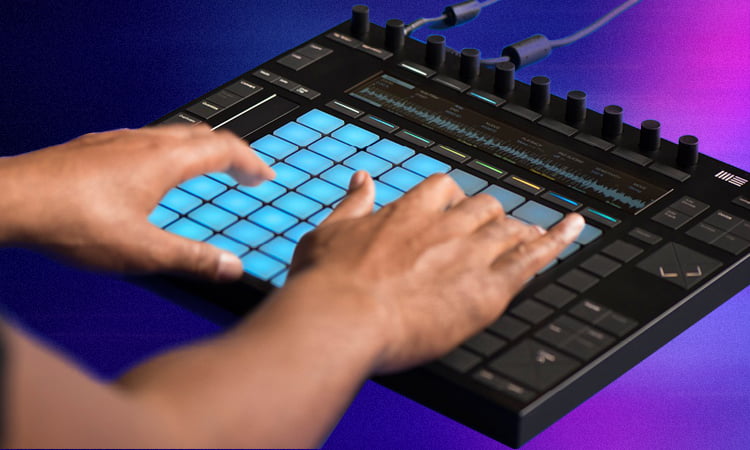 Strategies to sell your beats
To make the path to sales of your beats shorter, more efficient and more often you must take into account your media where you publish your beats.
Whether it is on a social network or an online platform, you have to locate your set of people interested in your type of beats.
Identify your beats with a type of artist that is relevant to your production style, for example, type beat Travis Scott.
This will help people and fans of the artist get to your beat and they will recognize that there is a similarity between the artist and your beat.
Once located, try to catch their attention so that they visit your profile and check out your productions, this will make people feel interested and most likely they will end up clicking on the buy button.
Have good images, make sure your profile is of good quality that reflects your style and confidence so that people are excited and confident in the purchase, your image will be the first impression of people towards you.
Have a good repertoire of your beats… Create a portfolio, design a sample easy for users, impress them, this is a big part of the job of being able to sell online.
This is all I hope our post has helped you, and if you are starting and you have not been selling for years, try something different, use other media, you will never be wasting your time, just learning where to go.